ULIS held the ceremony for presenting certificates of Vietnamese language course to foreign Security Officers and Police
On September 20th, 2016, University of Languages and International Studies – Vietnam National University, Hanoi (ULIS – VNU) held a ceremony for presenting certificates of Vietnamese language course to foreign Security Officers and Police at ULIS-Sunwah building
The ceremony was attended by ULIS's Vice-President Nguyen Xuan Long, Deputy Director of External Relations Agency, Ministry of Public Security, Vietnam (MPS) – Major General Vu Ngoc Lan, staff of International Education Center, Department of Personnel, Department of Cooperation and Development, Department of Academic Affairs, Divison of Vietnamese Linguistics and Culture, 11 participants of Training Course on Vietnamese Language and Culture from Japan, Laos, Cambodia, China and especially 3 ones from Korea.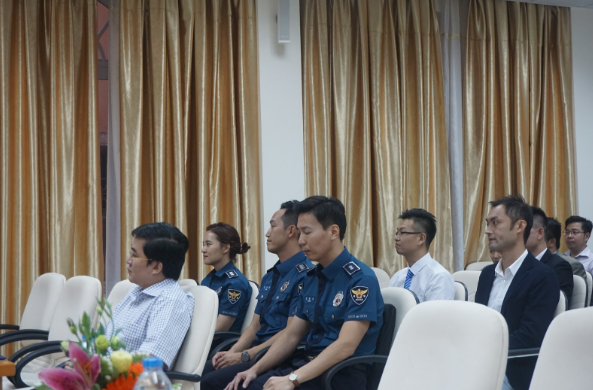 The training course on Vietnamese Language and Culture for foreign police is a part of the language training cooperation between ULIS and MPS. In this 3-month course, ULIS has received and trained 3 Korean officers, namely Kim Beommo, Jang Ahreum and Jeong Munsu. These are outstanding officers of security and police area in Korea and have excellently completed the Vietnamese Language course.
Addressing at the event, Vice-President – Dr. Nguyen Xuan Long congratulated officers on completing the course and hoped that they would put acquired knowledge into their work and actively contribute to the promotion of relations between Vietnam and regional countries. He asserted that Vietnamese was not a hard yet interesting language that they could explore more in the future.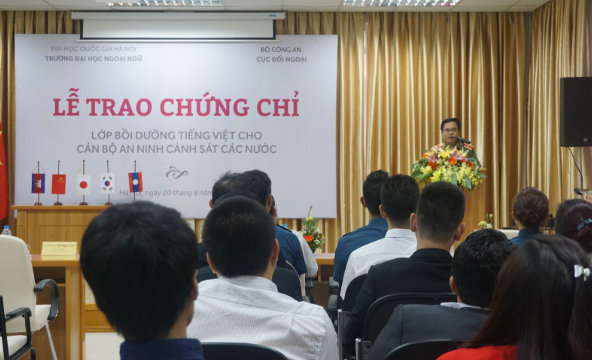 Major General Vu Ngoc Lan spoke highly of contributions of ULIS in teaching Vietnamese for foreign security officers and police. The graduates of this course is surely a credit to ULIS, affirming that it is always a leading university in training languages in Vietnam.
After presenting certificates to officers, all participants took photos and had a small party. Although the course has finished, memories about it will definitely imprint in minds of officers and teachers.